Why Use Red Light Therapy?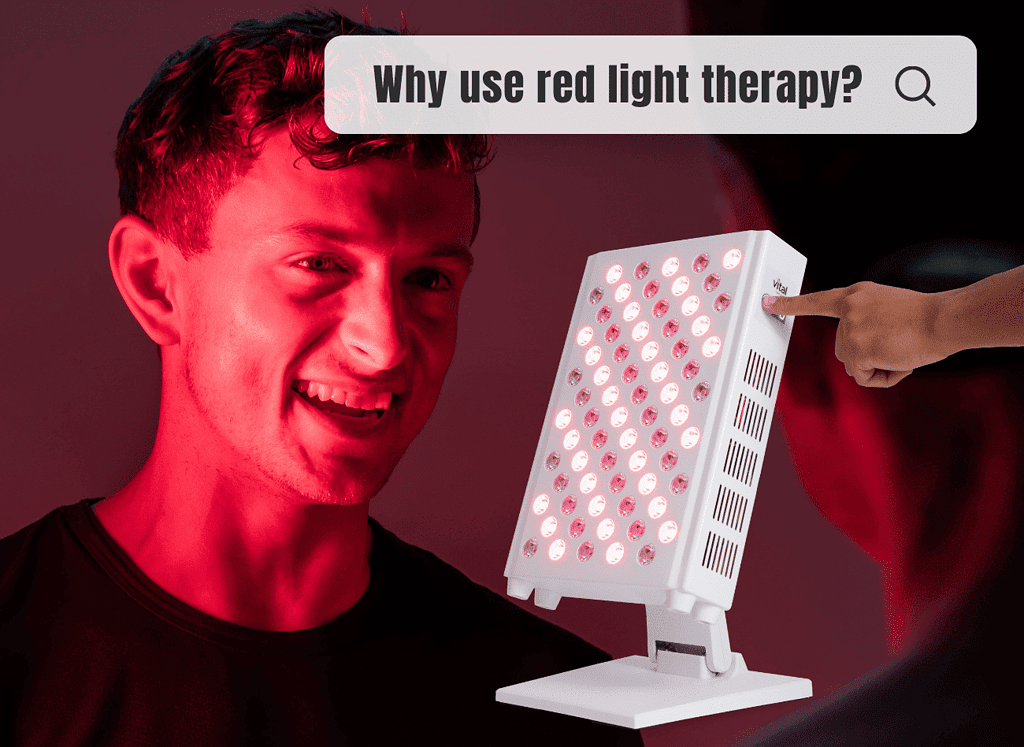 Nowadays, red light therapy is (almost) considered a mainstream, standard practice for elite professional athletes, world-class training centers, and the leading medical experts. Vital Red Light devices are now being used by guys like Tony Robbins, Odell Beckham, Equionx Gyms, and over 30,000 others who are looking to perform, look and feel better. But what exactly is this tool? 
First things first. We need sunlight to be healthy. You already know that. That's why you are reading this. We all remember that one day where we spent the entire afternoon basking in the sun — it's INVIGORATING! The problem is, you can't bask in the sun every day. You work. You support a family. You go to the gym. You are striving for more out of life in this life. And laying out in the sun isn't a reality for you (right now at least).
This is where red light therapy comes into play. Red light therapy harnesses to specific wavelengths of the sun, red and near-infrared light. You can think of it as a "sunshine supplement". With red light therapy, you get a predictable dose of natural light anytime, anywhere — regardless of the weather. 
In this article, we will discuss everything you need to know about red light therapy. What a clinical science says. And how could benefit everything from your energy levels to T-production and other benefits such as: 
Skin repair and anti-aging 
Muscle recovery and endurance 
Pain and inflammation 
Boosted test and libido 
Cognitive function 
Sleep
Mental health and stress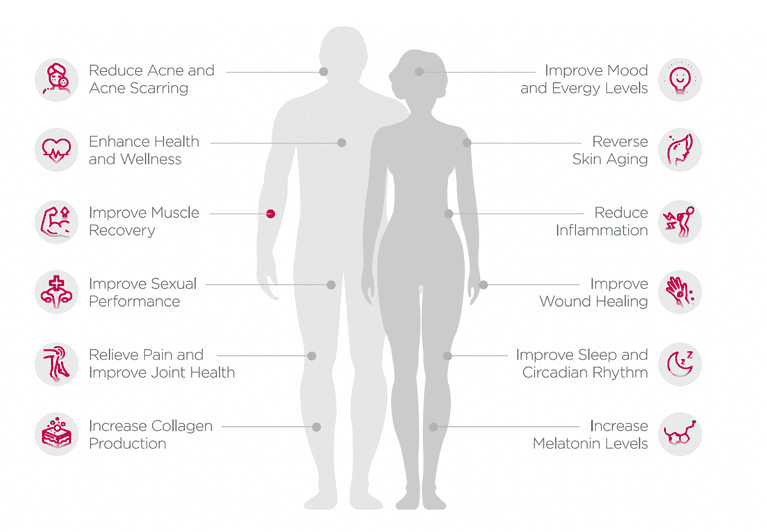 What is Red Light Therapy ?
The key point: Your health depends on your mitochondria — also known as the powerhouse of the cell. Mitochondria create energy to fuel the body. Scientists have discovered that when red and NIR wavelengths penetrate the skin, they stimulate the mitochondria, and help them produce energy more efficiently. In essence, mitochondria can use Red Light as an energy source. Pretty cool right?
Here's a bit more detail on the mechanisms at play: red and near-infrared light have a particular resonance with a key enzyme during cellular respiration—cytochrome c oxidase (CCO). Cellular respiration is the process of converting food, water, and light, into energy. This process happens within the mitochondria. Think of ATP as the gasoline to your car, it is the energy source for all that you do. And red light therapy directly increases ATP production (more below).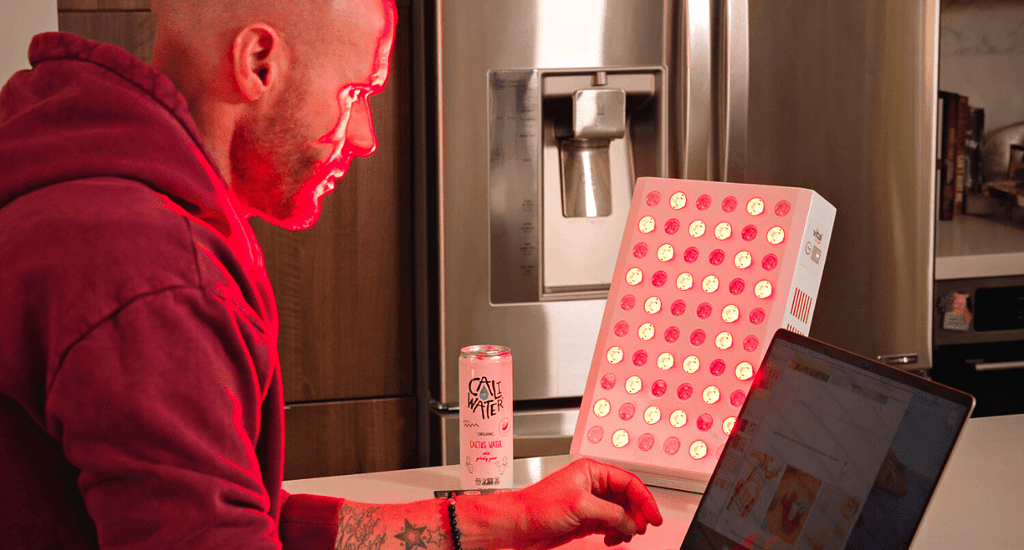 The Science of Red Light Therapy​​
The key point: Your health depends on your mitochondria, the cell in your body that converts food into energy. When they're stimulated by the red light therapy, they work more effectively and boost your overall health.
Scientists have discovered that when red and NIR wavelengths penetrate the skin, they work in particular on the cell's main energy producers, mitochondria. Red and near-infrared wavelengths stimulate mitochondria, causing them to produce more of the compound known as adenosine triphosphate (ATP), the source of energy that's used and stored at the cellular level.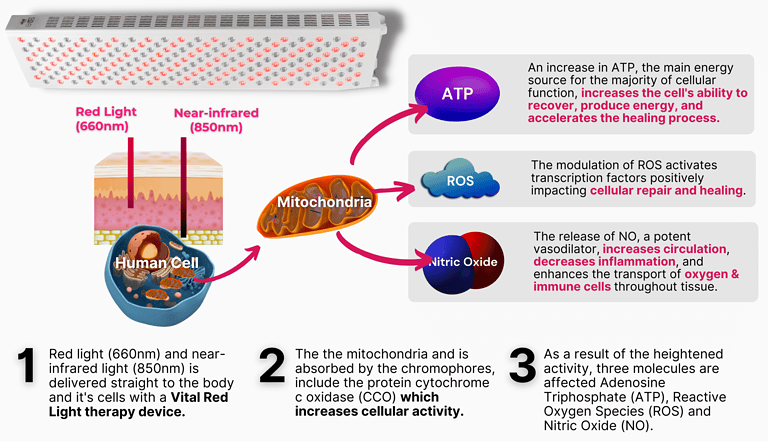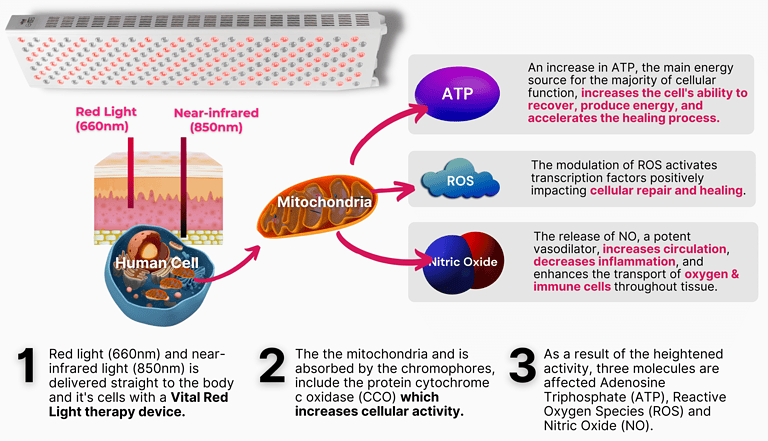 When our bodies become stressed, we tend to produce a lot of nitric oxide (NO). Excess NO in the body tends to halt cellular respiration — and the body struggles to make energy. The excess nitric oxide in your body messes everything out and binds to the key molecule CCO which slows the production of ATP (energy). 
This is where red and NIR light comes into play. Red and NIR wavelengths can sort of "excite" the electrons in the cellular respiration process — breaking the bond between NO and CCO — to allow more ATP to be produced. As a result, the excess nitric oxide (NO) is freed in the body. This is the reason many people report feeling a "pump" after a red light therapy session.
In order to give you a full rundown of the science, there are various secondary mechanisms from Red Light Therapy that influence your body. These include red light helps to: create better oxidative environment in your cells (removing free radicals) — resulting in the activation of numerous intracellular signaling pathways, increased protein synthesis, enzyme activation, and enhanced cell cycle progression.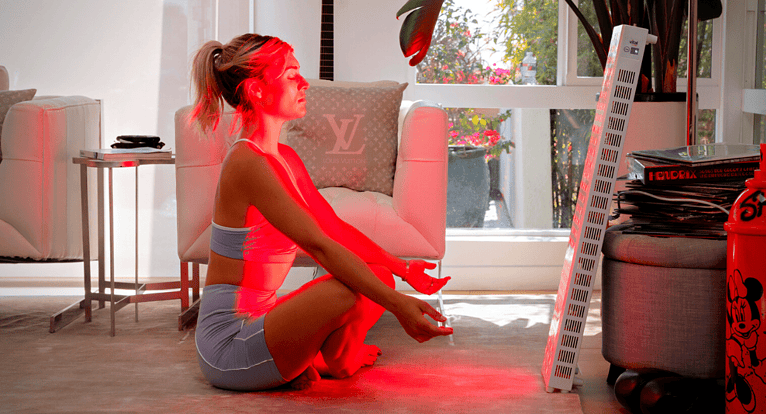 Like we touched on above, red and near-infrared light trigger a cascade of beneficial chemical reactions throughout tissues that stimulate the body's own healing and protective processes – which can lead to improved overall skin health, reduced pain and inflammation, better sleep, and enhanced muscle recovery. 
A common question we get is this: how can red light therapy help with so many things? It comes down to this. Every cell in your body has 20 to 30 mitochondria. Some parts of your body like your muscles and brain – have a higher concentration of mitochondria because they demand more energy. Since red light therapy it works directly on your mitochondria, wherever you shine the light, whether it's your face, back, neck, or limbs — The Mitochondria in that area are receiving energy to do their jobs more efficiently. Whatever the light touches – it influences. (That's why we encourage using red light therapy while naked).
Get The Official Red Light Therapy Treatment eBook
Want to learn more? Download our official Red Light Therapy guide with over 1,214 clinical references on the power of Red Light Therapy. 
This is the Fifth Edition of the Red Light Therapy Treatment Protocols eBook, which has grown to 30+ pages! This eBook is designed to help you enhance your experience and results with red light therapy (RLT) by giving you specific protocols based on your health and wellness goals. 
What to look for in a device
Red light therapy devices come in many forms – from full-body units that expose your whole body to therapeutic red and near-infrared light to smaller handheld devices that are more portable and convenient. 
Quality and safety: Settling for a cheap red light therapy device on Amazon can be doing more harm than good. Especially if you are sitting in front of the device naked, you don't want to put the efficacy up to change. If you do some research, you will quickly realize that most red light products are actually not designed for human use. And use on ethical marketing tactics which reveal faulty measurements. Vital Red Light devices are different. Our devices pass a 19-day testing period prior to being sold & have undergone industry-leading stringent third-party independent tests.
Power: If you do some research, you will quickly see that there are a lot of devices out they are claiming to be the "most powerful". With red light therapy, more power does not yield federal results. Here's the deal: you don't want your red light therapy devices to deliver excess power because of something called the biphasic dose response — which essentially is the law of diminishing returns. Too much light exposure actually negates the benefits. 
Vital Red Light devices, like the Vital Pro, use premium 5 WATT LED, anti-flicker LED light technology to deliver the highest therapeutic power for benefits. The precise therapeutic wavelengths of Red (660nm) and near-infrared (850nm) light in all Vital Red Light devices are comparable to what is used in the clinical studies. Vital Red Light devices are designed and manufacture following strict medical standards and are 3rd party tested.
There is too much junk out there in the Red Light Therapy
. That is why we made Vital Red Light.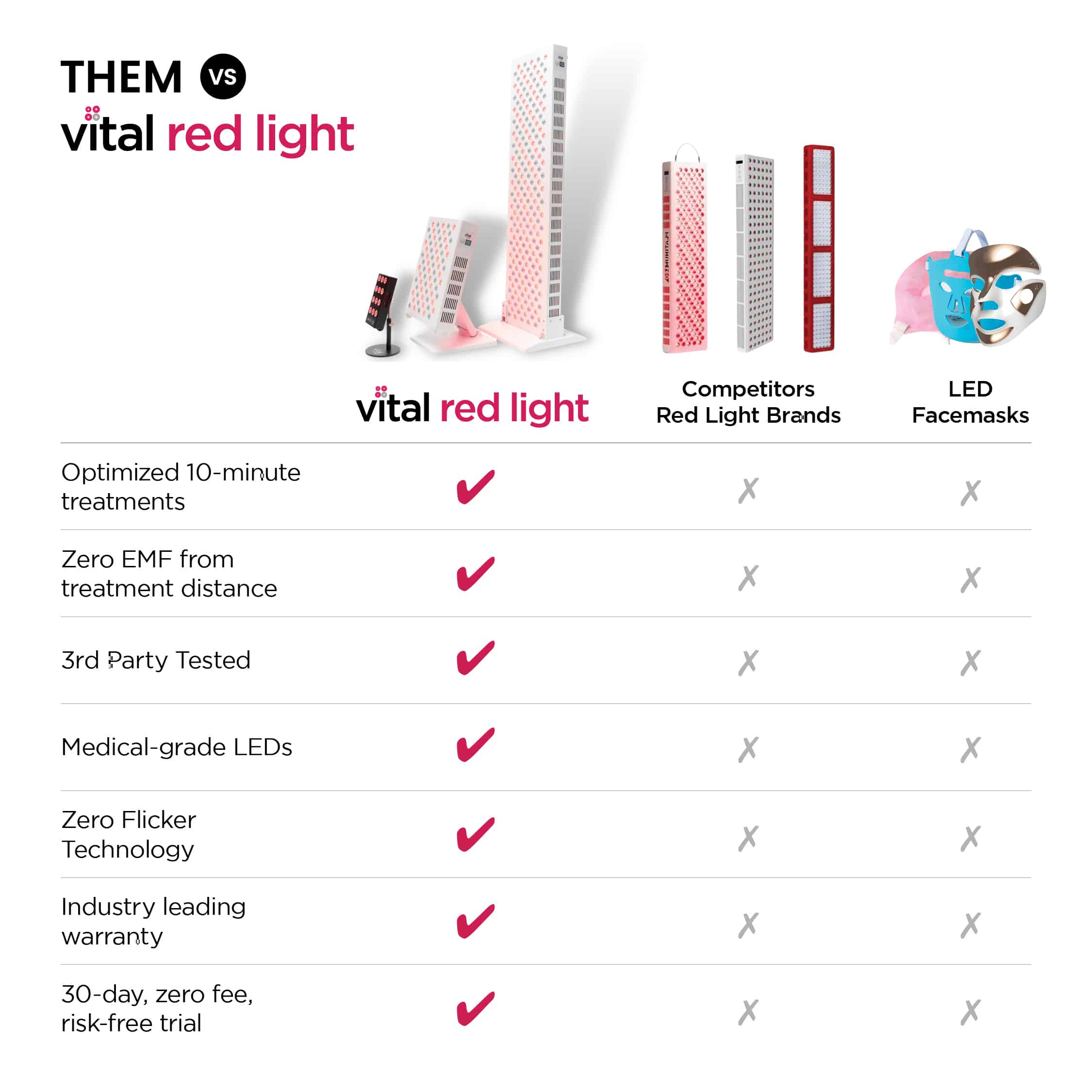 "Vital Red Light helps with a variety of wellness benefits for the mind and body."
"Vital Red Light helps with a variety of wellness benefits for the mind and body."
Shop Vital Red Light Devices
The Vital Charge features a rechargeable lithium ion battery that lasts up to 4 hours for continuous red light therapy treatment. Take this lightweight, portable device with you everywhere you go

Vital Red Light devices are registered
and cleared by the FDA
Free USA Shipping and
Worldwide Shipping options available.
No hassle returns. No hidden restocking fees.