Introduction
Learning about red light therapy can be a daunting task. Worse yet, using a red light therapy device from a lot of brands could actually be causing more harm than good. If you buy a product that is not third-party tested, medical grade, or from a cheap manufacturer (like most brands off Amazon), you may be doing more harm than good.
At Vital Red Light we are different. We have spent years making the only red light therapy device that has zero EMF, ultra low flicker, and precise wavelengths and power metrics for the most efficient red light therapy experience possible. Our devices are third-party tested (see here) and are medical grade so that you can achieve the results you deserve.
We are proud to have over 1,465 medical professionals in 76 countries using our products, along with some of the most trusted experts and organizations in world including: Goop (& Gwyneth Paltrow), Equinox Gyms, REVOLVE, US Weekly, Brooke Burke, and hundreds of athletes in the PGA, NFL, NBA, MLB & more.
Add a header to begin generating the table of contents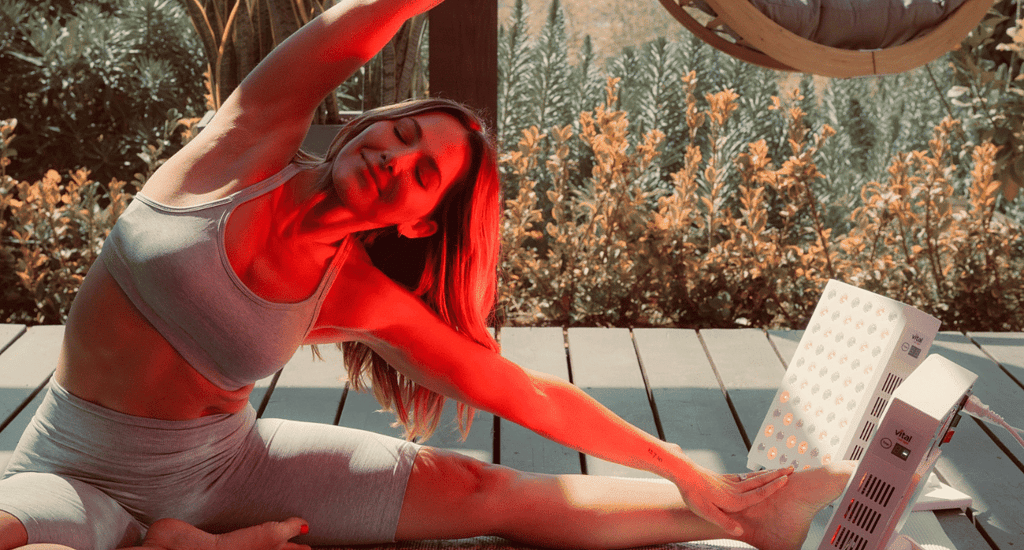 Making an informed buying decision
Before you jump into spending any money on a red light therapy device, it is important to understand how these complex devices work so that you can make an informed decision.
Red light therapy devices can be classified as medical grade because they are highly therapeutic for the human body. Vital Red Light devices have a precise spectrum, have certified medical grade power, are manufactured with the highest standards, and are in compliance with safety and regulatory agencies.
To help guide you along your red light therapy journey, we are sharing the top things you need to take into consideration when making this investment in your health.
The most important things to consider when buying a red light device: Power
LED light power is the most important consideration that you should have when buying a red light therapy device for home use.
For expertise in why light therapy power matters, we hand the microphone over to Michael Hamblin of Harvard Medical School. Dr. Hamblin is widely considered the leading expert in photo medicine (red light therapy or photobiomodulation). Dr. Hamblin says that "total light energy is the most accurate and comprehensive way to measure the power of light therapy devices and treatments." 
"If you only account for irradiance—versus how much total energy a device delivers—you miss the larger picture of how light therapy positively benefits the person using it."
Dr. Hamblin brings up an important point: the power of the device versus the brightness (irradiance) of the device.
Many competitors on the market today focus their attention on the irradiance of their lights, advertising as "the most irradiance from a red light therapy device." However, that is not what you should be prioritizing. The power of the device is far more important.
Read on to learn why.
Why Power density matters: Vital Red Lights offer therapeutic grade power
Power density essentially refers to the power output or how intense the device is. 
If you're looking for a red light therapy device that is low-power, you will not get the optimal health results and will end up wasting your money.
To make an informed decision, it's key to know that the measure of power can be understood by looking at the LED chip in the red light therapy device. For example, our Vital Pro is made with a 5 Watts LED chips. Compare this to our competitors who have LED chips of 2-3 Watts. This means they are orders of magnitude lower in both power and therapeutic effect.
If you're confused, that's okay – this can get quite complicated. Here's an easier way to look at it: most manufacturers don't offer independent, verified power measurements including wattage, beam angle, energy output, and more. That means you have no idea what you are actually getting with your purchase and no evidence as to whether this device will actually provide any benefits. We advise you to avoid those red light therapy devices at all costs, especially ones coming from Amazon.
Vital Red Light Therapy panels have been tested by a third-party lab, are medical-grade, and the results are available for you to see. We share all the following numbers for you to clearly see and understand the efficacy of our devices:
Wavelength
Irradiance (power)
LED
Light output
And more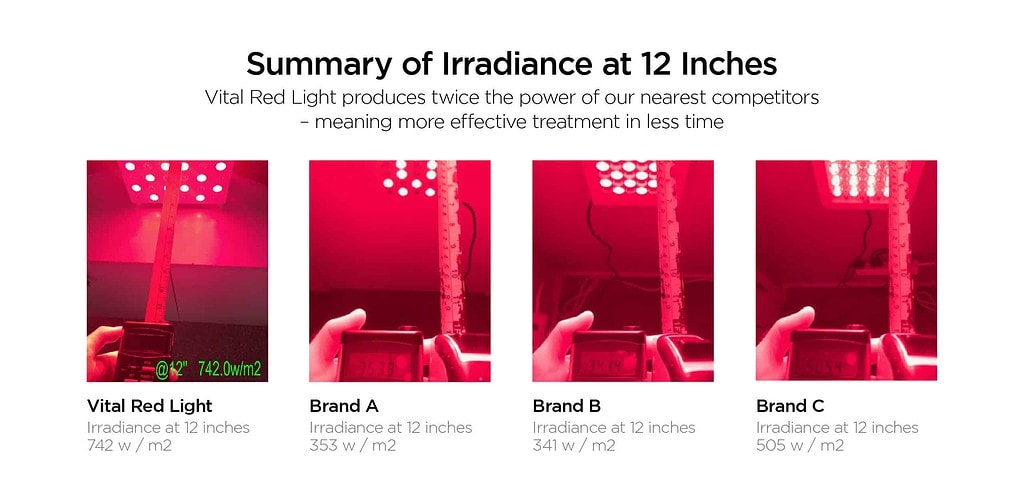 The Correct Light Spectrum: Therapeutic red and near-infrared wavelengths
Red light therapy – also called red and near-infrared light therapy – needs to have the right spectrum of wavelengths to do its job.
In order to be effective and allow you to experience all the incredible health benefits of red light therapy, you want a product that offers a dual spectrum output. Dual means a balance of both deep red (lower penetration) wavelengths and near-infrared (deeper penetration) wavelengths.
These two wavelengths, in tandem, work to treat both the surface of the skin as well as go deeper to what lies beneath the skin. This is key to reaping the benefits of red light therapy – in order to solve health problems, you need to treat the underlying causes, not just the surface.
Deep Red Light. Deep red light is measured at 660 nanometers. This wavelength is ideal for targeting all skin concerns because the light is able to penetrate into the skin in order to rejuvenate the skin's tone and complexity, while simultaneously smoothing out uneven pigmentation.
Near-Infrared Light. Near-infrared light is measured at 850nm. This wavelength penetrates deeper into the skin, which induces a number of health benefits such as: Anti-inflammation, enhanced muscle recovery, healing of the wounds within the skin, reduction of wrinkles.
Most photomedicine researchers point to something called the "therapeutic window," which is a range of wavelengths between about 600 to 1,200 nanometers. Red and near-infrared light—especially between 600-950 nm—has been studied extensively and its positive effects have been well documented in clinical trials. 
Vital Red Light devices offer you the ability to switch between deep red light (660nm) and near-infrared light (850nm), or use both the deep red and near-infrared light at the same time to experience all of the benefits. This is rare – many products in the market did not give you the ability to switch between different wavelengths.
Low Flicker Rate: Most cheap brands (from Amazon) have high-flicker, which causes headaches
Have you ever recorded a bright light on camera, and noticed that it flickers on and off very quickly? Have you walked into an office building and felt like you were getting hit with a strobe light? That's because those lights were LED lights that have to flicker to sustain power. This is fine for most household lights, but not when you're talking about LEDs for red light therapy.
Most of our competitors source their products and lighting from traditional, large-scale manufacturers that do not have a primary focus on the intricacies of red light therapy. That often means they end up using cheaply-produced LED lights that flicker in order to sustain energy. The alternating electric current causes the LEDs to turn off and on many times a second as the current changes direction.
This results in a brighter light, but with less power. (Remember from above that a premium red light therapy device like you want in your home should focus on power, not brightness.)
You may not be able to notice the flicker at first but over time, it will cause biological stress on your body's systems – you will likely start to experience headaches and issues with eye strain.
We are proud to say that Vital Red Light devices produce no flicker at all. We work with manufacturers that have a singular focus on red light therapy devices for human use, which means you get a device with LEDs that lead to sustained treatment, powerful therapeutic benefits, and comfort.
Low EMF Emissions: Most leading brands have very high EMF levels
You've likely heard of the term EMF (electro-magnetic frequency). EMF is a form of radiation that is emitted from all electronic devices. In high, sustained doses, EMF wavelengths can be very harmful to humans.
Many red light therapy devices on the market today have high levels of EMF output. Some competitor red light therapy devices have overly complicated and unnecessary electronic features, which adds to the cascade of EMF output in their devices with little benefit to the user. 
Other cheap competitor devices do not have the complicated electronic features, but are lacking proper insulation. And insulation within the red light therapy device is critical to suppressing EMF output.
Vital Red Light therapy's research and design team has been able to produce a high-powered device with low EMF output and effective heat distribution, which allows for the safest treatment. Vital Red Light Devices are optimally insulated for low EMF output, with maximum power output.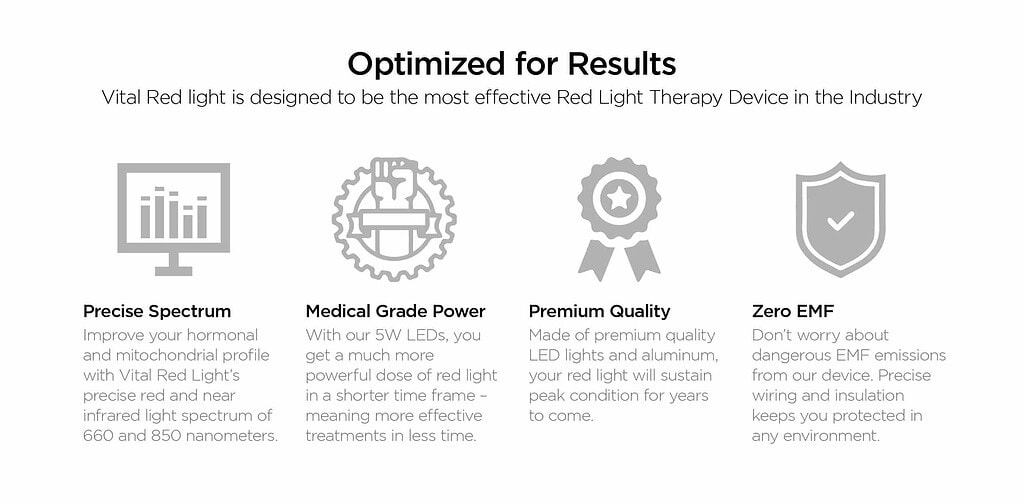 This careful balance is something we are very proud of at Vital Red Light.
A typical red light therapy session looks like anywhere from 5 to 20 minutes for treatment while standing about 1 to 3 feet away from the device. The closer you are, the higher amount of electrical radiation you're subjected to. Because our beam angles are at 30 degrees and not 60 (as explained above), you are able to stand farther away from the red light therapy device while receiving all of the same benefits as if you were closer.
Imagine being able to improve every possible skin concern – from wrinkles to fine lines, along with hair loss, acne, and even lesions – all with minimal time, effort, and in the comfort of your own home. That is what you get with Vital Red Light. 
Which red light therapy device should I choose?
Red light therapy devices come in many forms – from full-body units that expose your whole body to therapeutic red and near-infrared light to smaller handheld devices that are more portable and convenient.
While no light therapy device is "one size fits all", every Vital Red Light product is designed to be lightweight, portable, and easy to use. The only difference between each of our red light therapy devices is the size of the emitting surface – but this will determine its intended uses.
Below are the three best red light therapy products you can buy today.
The Vital Charge is a versatile device that can be used on small areas like the face, hands, or feet. It's the most affordable option in our collection, making it a great choice if you'd like to try out red light therapy before committing to buying a larger treatment panel.
The Vital Pro is our most popular device for full-body treatments. It's large enough to be comfortably used on the entire front and back of your body at once. Perfect for use in combination with a standing desk or in front of your TV, you can relax while you receive your daily dose of natural light.
The Vital Elite is our largest red light therapy device and is ideal for those looking for maximum coverage while they treat. This device features 172 5-watt medical-grade LEDs, which makes it ideal for multiple users at once (think couples massages or even pets).
In order to experience all the amazing benefits that red light therapy has to offer, you need to make sure that the device you're buying is high-quality. There are lots of cheaply-made red light therapy devices out there that charge a pretty penny and weren't built in the correct way to actually provide the therapeutic benefits. Thus, it's important to do your research before buying a red light therapy device.
At Vital Red Light, we provide all of the key features and numbers on our website that let you know that the device you're buying is quality and will bring you the results that you're after. We use only the highest-quality materials in our devices and have the research to back up our devices.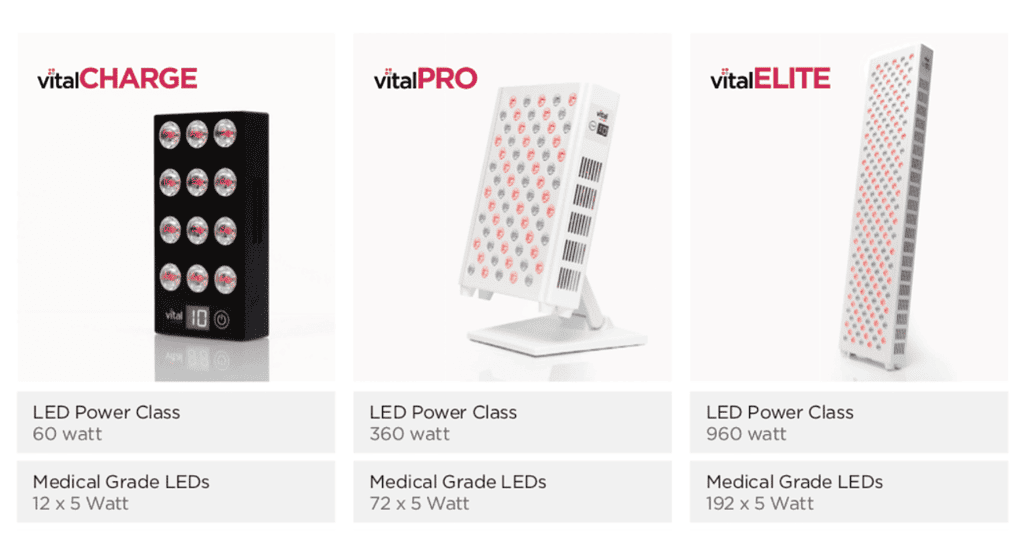 Many people also use red light therapy first thing in the morning as an energy booster, as it can improve circulation and provide an invigorating boost of warmth.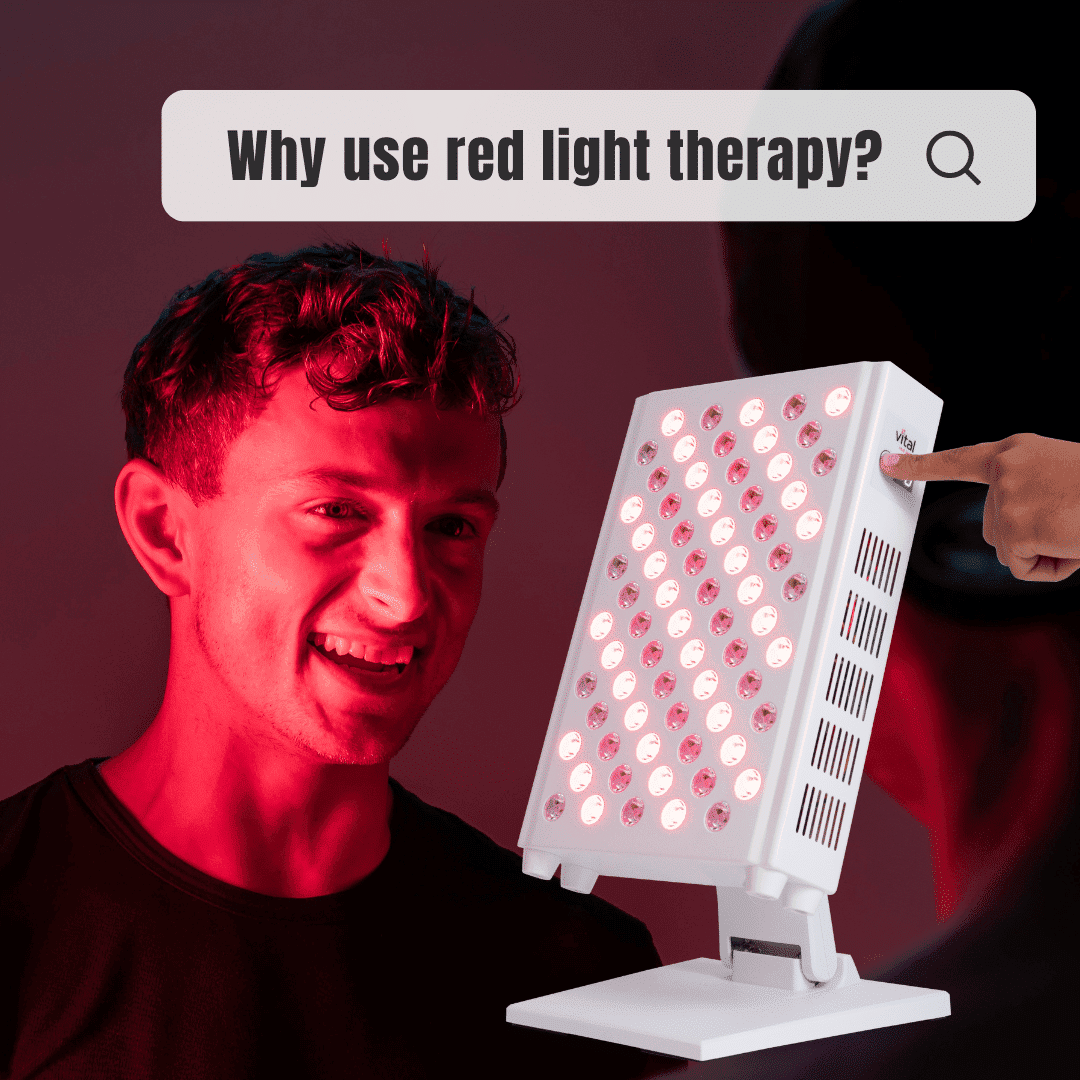 Red light therapy home devices can save you time and money by helping you improve your health and fitness, right at-home.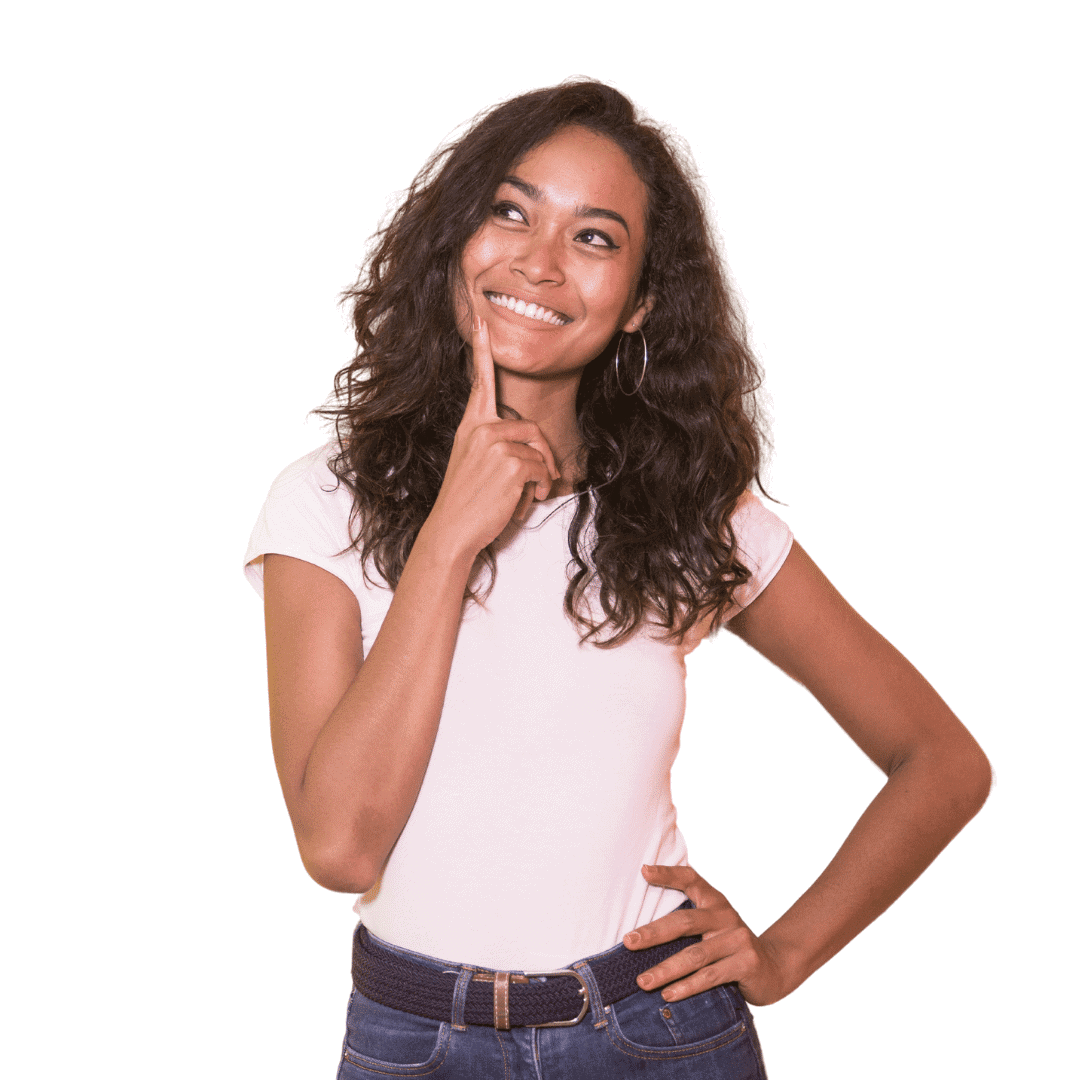 Red light therapy home devices can save you time and money by helping you improve your health and fitness, right at-home.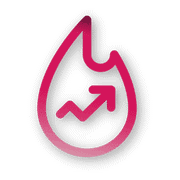 Explore Red Light Devices
The Vital Charge features a rechargeable lithium ion battery that lasts up to 4 hours for continuous red light therapy treatment. Take this lightweight, portable device with you everywhere you go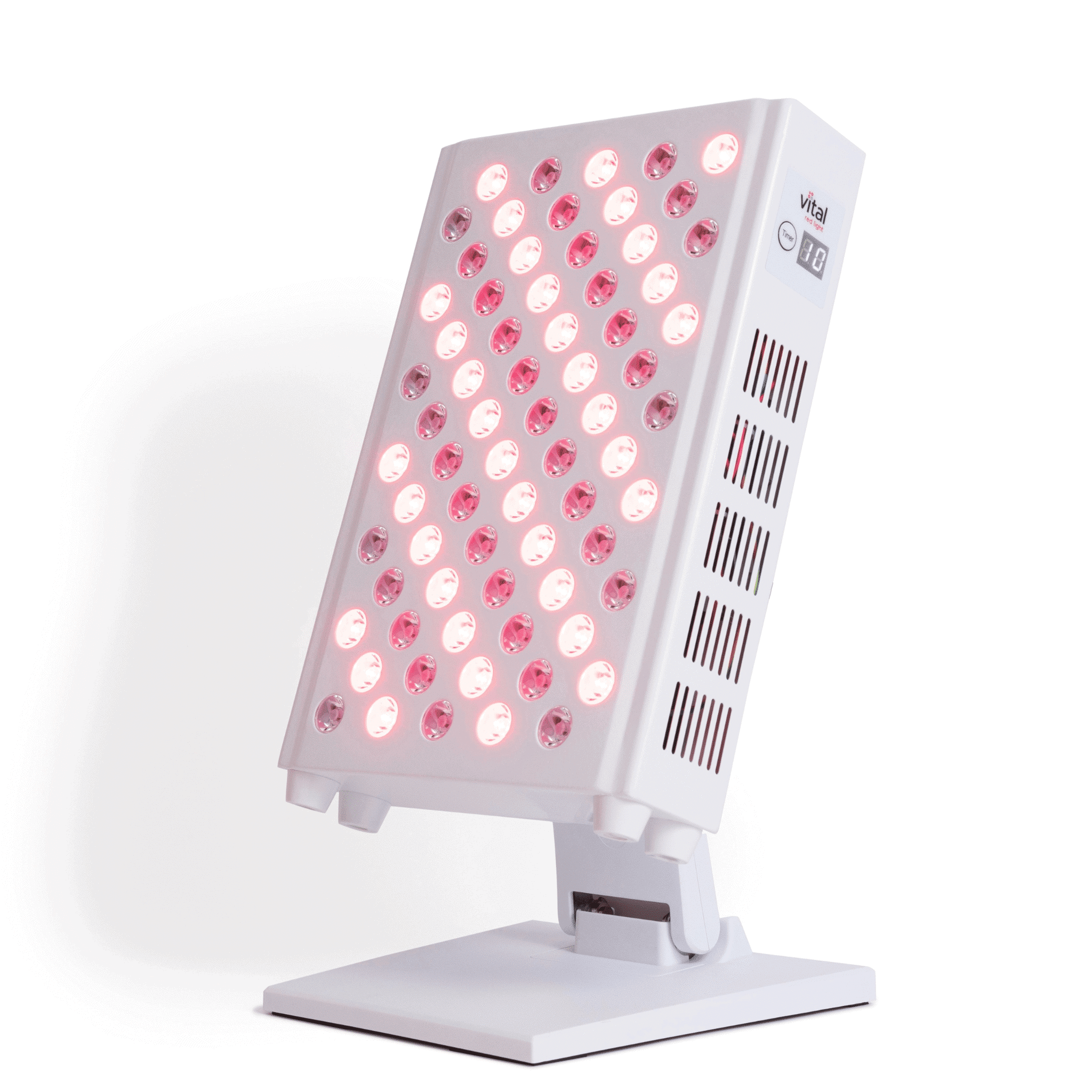 Vital Pro is a targeted red and near-infrared LED light therapy device that improves skin health, promotes full-body wellness, and improves cellular health.

The most immersive light therapy experience that you can buy, The Vital Elite is designed for full body treatments across large areas of the body, such as the back or chest & abdomen.