How Red Light Therapy Helps Me Start the Day
"I used to feel tired and unmotivated waking up before the sun. Now I sit in front of my red light therapy device for 10-minutes in the morning and it gives me the energy to start my day. It's like a sunshine supplement." — Jesse ★★★★★
If you notice you feel especially sluggish in the winter months, it may not be just because of colder weather. It could be because lack of natural light ⚠️. With the days getting shorter, we are naturally getting less sun. You probably already know this, but we need plenty of sunlight to be healthy, but most people do not get enough. 
This is where red light therapy comes into play. Red light therapy is a natural way to help your body get the sunlight it needs. Imagine getting all the benefits of sunlight without ever having to leave your house on a cold, dark day. With red light therapy, you can do just that. Plus, it's affordable and easy to use – there's no excuse not to try it out for yourself. 
You can shop all of Vital Red Light's FDA cleared devices here.
What is Red Light Therapy?
Nowadays, red light therapy is almost considered a mainstream, standard practice for elite professional athletes, beauty professionals, and medical experts.
The 101 on Red Light is this: Red light therapy (RLT) – also known as photobiomodulation, is a natural, non-invasive healing modality that delivers beneficial light directly to your body and cells. It utilizes two specific wavelengths of light (mid 600nm red light and mid 800 nm near-infrared light) that are naturally emitted by the sun. In targeted doses, they provide a wide range of health benefits across different systems and parts of the body.
A great metaphor for explaining the science of red light therapy is to draw a comparison to plants. Just as plants use chlorophyll to convert sunlight into energy (food), red and near-infrared light creates a biochemical effect in the body that enhances cellular energy production and efficiency.
Why use Red Light Therapy?
Light is essential to our health & well-being, but most people do not get enough. The average person today spends 93% of their time indoors, cut off from the natural light of the sun. Worse yet, much of the time we spend indoors is filled with artificial blue light, fluorescent light bulbs, and other toxins that we are chronically exposed to. Our human bodies were designed to function with an abundance of natural sunlight, but with our modern lifestyles, we don't get nearly enough light to have optimal health. Red light therapy is here to change that. 
Have you ever wondered why you feel so good after spending a day at the beach? It is because sunshine is energizing and healing. Red light therapy harnesses two specific wavelengths of the sun, red and near-infrared light. You can think of it as a "sunshine supplement". With red light therapy, you get a predictable dose of natural light anytime, anywhere, even if you were living in a small New York City apartment. This leads to some pretty amazing benefits.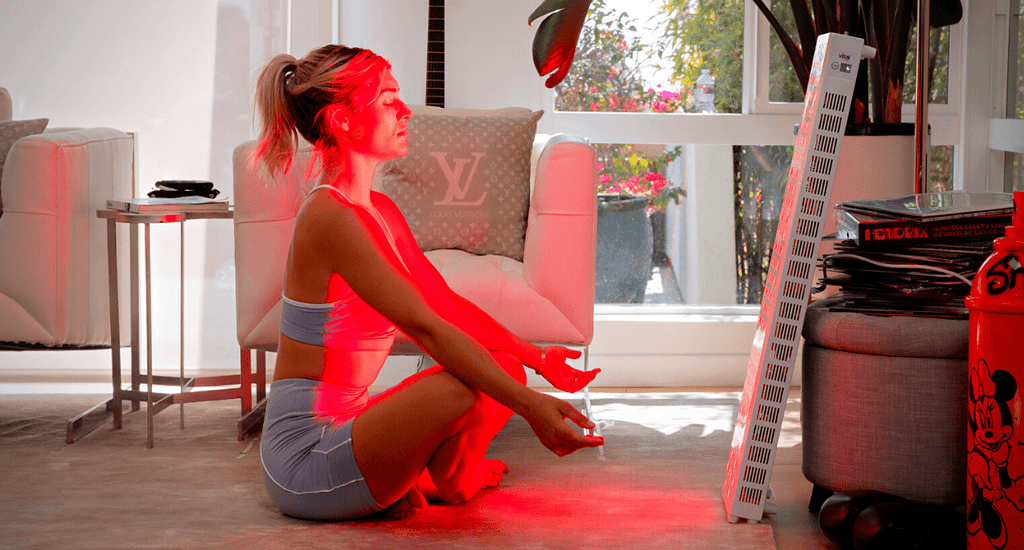 Did you know that red light therapy improves your health from the inside-out? Red light therapy is a clinically proven way to restore your body's energy and improve its ability to heal itself.
The red light penetrates three-quarters of an inch under the skin, stimulating blood flow and increasing energy production. Red light is so effective because it reaches deep into the body where most other therapies cannot reach on their own. Once deep inside the body, red light can stimulate blood flow, increase cellular energy, and enhance collagen levels.
Many people come to red light because they want to look better (no shame in that 🤝), but they stay committed to using it because they see improved sleep, mood, and energy levels. Learn more about the benefits below.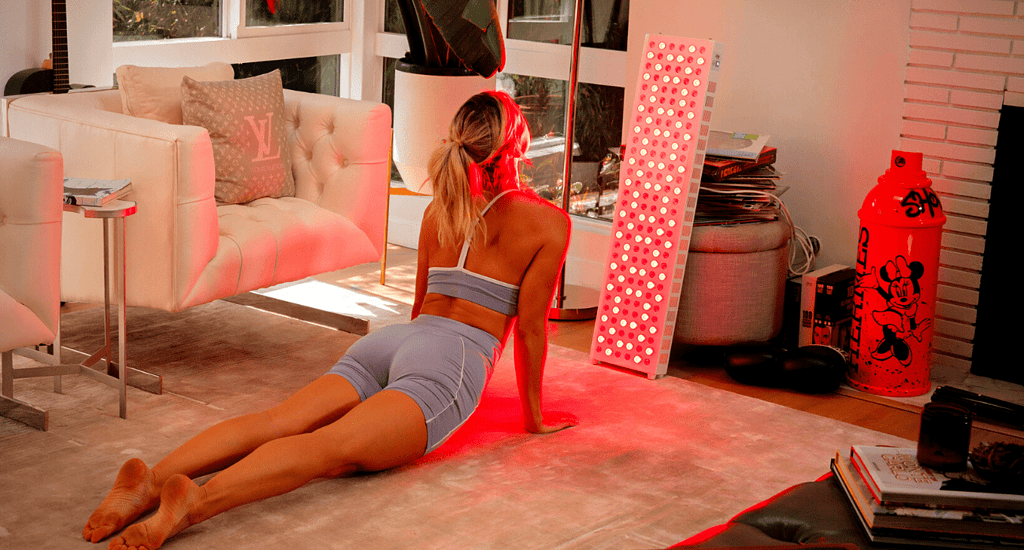 How to Use Red Light Therapy?
Just sit down, relax infant of the device, and let the clinically proven red and near-infrared light work magic on your body and cells. The light is proven to boost natural healing and regeneration from within the body. It doesn't just treat the symptoms, it gets to the root of the problem.
Turn on your Vital Red Light, remove any clothing, and shine it on the area of your body that you wish to treat (face, limbs, back, stomach).

Nourish your body with healthy light as you meditate, read, or work. Our devices give you the optimal light exposure in simple 10-minute sessions. 

Step away from every simple 10-minute red light therapy session with radiant skin, a brighter mood, more energy, and healthy cells
👉 Many people also use red light therapy first thing in the morning as an energy booster, as it can improve circulation and provide an invigorating boost of warmth.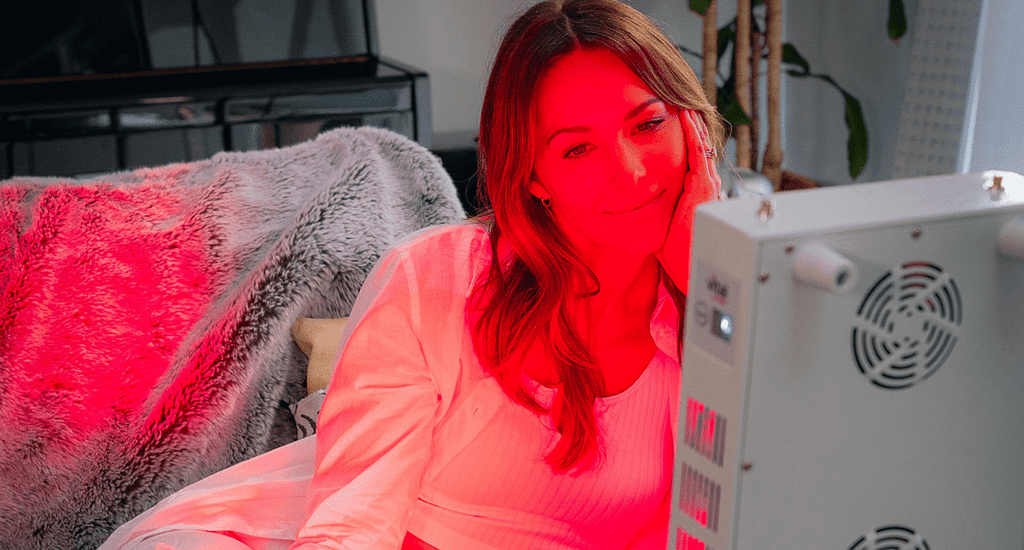 What happens when you nourish your body with healthy light daily?
Your body begins to change from the inside out. Red light therapy is an effective way to heal your body, change your skin, and improve your energy from the inside-out. Just remember, it is important to understand that the benefits are cumulative; meaning, they build on each other over time. This is because red light therapy treats the root cause of disease and cellular dysfunction at the source. It is not just a quick topical solution – you are healing your body from within. Shop the best-selling Vital Elite here.
Who Uses Vital Red Light?
At Vital Red Light we are different. We have spent years making the only red light therapy device that is optimized for your life. Our devices are third-party tested and are medical grade so that you can achieve the results you deserve.
We are proud to have over 1,465 medical professionals in 46 countries using our products, along with some of the most trusted experts and organizations in world including: Goop (& Gwyneth Paltrow), Equinox Gyms, REVOLVE, US Weekly, Brooke Burke, and hundreds of athletes in the PGA, NFL, NBA, MLB & more. 
"Vital Red Light helps with a variety of wellness benefits for the mind and body."
"Vital Red Light helps with a variety of wellness benefits for the mind and body."
Shop Vital Red Light Devices
The Vital Charge features a rechargeable lithium ion battery that lasts up to 4 hours for continuous red light therapy treatment. Take this lightweight, portable device with you everywhere you go

Vital Red Light devices are registered
and cleared by the FDA
Free USA Shipping and
Worldwide Shipping options available.
No hassle returns. No hidden restocking fees.