How Red Light Therapy Can Improve Your Skin?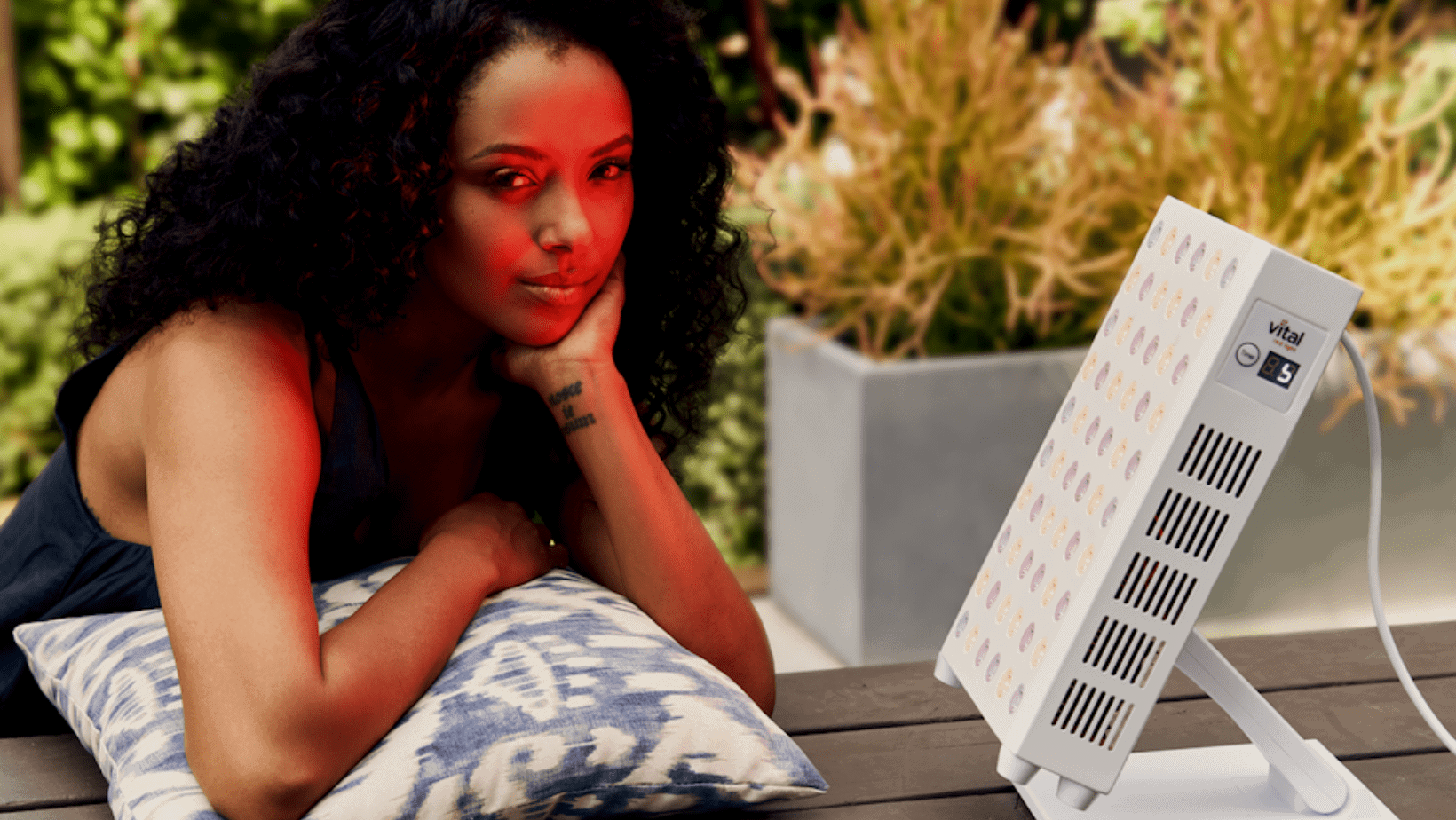 In this article
The chances are your skin-care routine features its fair share of cleansers, scrubs, serums, and creams. So, what is the one thing that is missing for better complexion and overall skin health? The answer is at-home red light therapy.
Once reserved for the world's top spas, salons, aestheticians, dermatologists, and beauty experts, it can now be used in the comfort of your own home. Red light therapy is one of the safest, most effective natural skin treatments available today on the market. It is being used by some of the top skincare professionals in the world for skin rejuvenation, anti-aging, healing, and enhanced complexion benefits.
Celebrities like Kat Graham, Nikki Reed, and Brooke Burke all swear by using Vital Red Light as a part of their natural skincare routine. Celebrity aesthetician Candance Marino, also known as "The L.A. Facialist" with clientele like Miranda Kerr and the Kardashians, includes a Vital Red Light treatment as a part of her renowned facial routine.
What is red light therapy?
Red light therapy (RLT), also known as photobiomodulation (PBM), is a technology that was developed by NASA in the 1980s. Vital Red Light Therapy devices emit red and near-infrared (NIR) light that is naturally emitted by the sun. In targeted doses, they have a healing effect on the body. Red light (660nm) is absorbed by your skin, leading to skin rejuvenation and healing. Near-infrared light (850nm) penetrates deep into your tissues, muscles, and body for recovery, reduced pain, inflammation, and much more.
Light at certain wavelengths has been scientifically proven to interact with the body in beneficial ways. Red light therapy, comprising both red and near-infrared wavelengths, is a unique healing part of the electromagnetic spectrum, and it is one of the most natural ways to charge the body to produce real benefits.
How does red light therapy work to improve skin?
If you have ever wanted to rejuvenate your skin, light therapy for skin offers you a healthy way. It treats the underlying cause of most skin issues.
It boosts collagen levels by using nutrients and energy that comes from the sun. By stimulating collagen synthesis and fibroblast formation, inflammation is reduced, it enhances blood flow, and facilitates DNA repair.
Red light therapy is a 100% natural, chemical-free and drug-free medium to combat the signs of aging and solve a whole host of other skin issues. Unlike most creams, serums, and procedures that you may have tried, red light therapy works with your body on a cellular level to bring about long-lasting and natural healing.
What are some of the benefits for skin?
Both your skin complexion and skin health can benefit from red light therapy, which helps you look and feel better.
People are turning to LED light therapy to fix skin problems such as acne. In fact, it works well for a variety of skin conditions, from eczema to rosacea and so much more.
Red light therapy has an extensive list of amazing benefits, such as:
Reduces redness and inflammation
Stimulates collagen production
Smooths fine lines and wrinkles
It prevents breakouts by killing the acne-causing bacteria
Minimizes pores by regulating oil production
Improves the appearance of scarring by promoting skin cell healing
Brightens skin and dark spots
Smooths skin texture
Helps with dermatitis, eczema, rosacea, psoriasis and other condition
Enhances the absorption of skincare products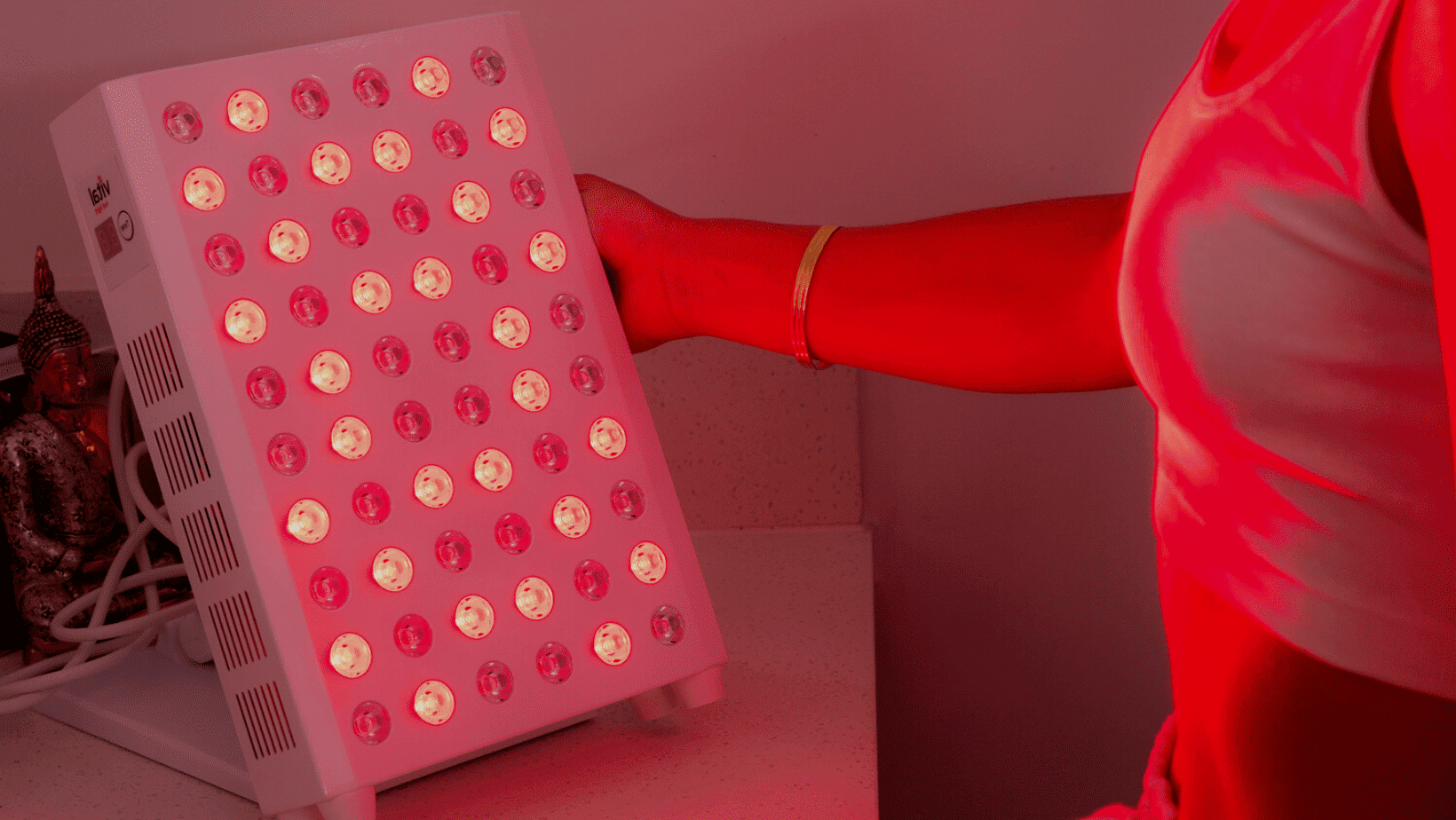 What's the difference between at-home vs. at a clinic?
Research and clinical studies have proven that LED light therapy treatments can effectively treat a multitude of skin concerns and provide transformative results. However, the results are cumulative, meaning you won't see long-term benefits from that single salon trip you treat yourself to every so often.
With regular appointments, you're going to spending a lot of time and money. The alternative? Invest in an at-home LED light therapy device.
A red light panel that you find in clinics may offer more power, but you can use your device more throughout the week or month, which can give you effective treatment and the same benefits.
The more regularly you perform LED light therapy treatments at home, you will see both short-term results and have long-term benefits. Investing today means a healthier tomorrow.
Are at-home devices safe?
Yes – depending on which one you buy, which is why you should always choose a red light therapy company you can trust.
All Vital Red Light devices are certified with the highest safety standards and are third-party tested. Red light therapy has been studied in over 500 human trials and 4,000 lab studies to date. With our professional infrared light therapy, your treatments deliver all of the beneficial wavelengths of light, without the harmful UV rays.
Red light therapy products are approved for all skin types and skin tones. However, if you have any specific concerns, it is recommended that you speak with your physician or dermatologist. Our general rule of thumb is that if it is safe and tolerable for a person to be outside in the sun for 20 minutes, then it is probably also safe for a 20 minute exposure to Red Light Therapy.
How do I use red light for my skin?
It's always recommended that the skin must be cleansed and clean without any makeup before LED light therapy treatment. For in-clinic treatments, you will be required to wear protective eyewear to protect your eyes from the light.
Using red light therapy is simple and easy: switch on your Vital Red Light, aim it at the part of your body that you wish to treat, and relax for 10 minutes. Easy as that, no set-up required; just get comfortable and enjoy. With only a couple of sessions a week, you will begin to feel the healing effects of red-light therapy.
Red light therapy protocol for skin health:
Frequency: 3-7x/ week
Treatment time: 10 minutes from 2 feet away from the device
Light mode: Red light is for the complexion, near-infrared is for deep skin issues
Tips: while red light is possibly superior to near-infrared light therapy for skin health, studies suggest that they will likely achieve a similar benefit. We also suggest that you stand at least 1 foot away from the light, so it doesn't penetrate too deeply in one area.
You can experience results as early as after the first treatment session with red light therapy. To get the most out of your Vital Red Light, consistency is key. We recommend once daily use, although using your device 2-3 times a day may be beneficial for symptomatic areas. Red light therapy has been proven to work fast and effectively.
Yes you can continue your usual beauty regime – it's important to carry on cleansing and moisturizing even when using red light therapy. Make sure you use products that don't block the pores (especially if you're treating spots or acne). Red light doesn't replace your skincare regime, but it does enhance it!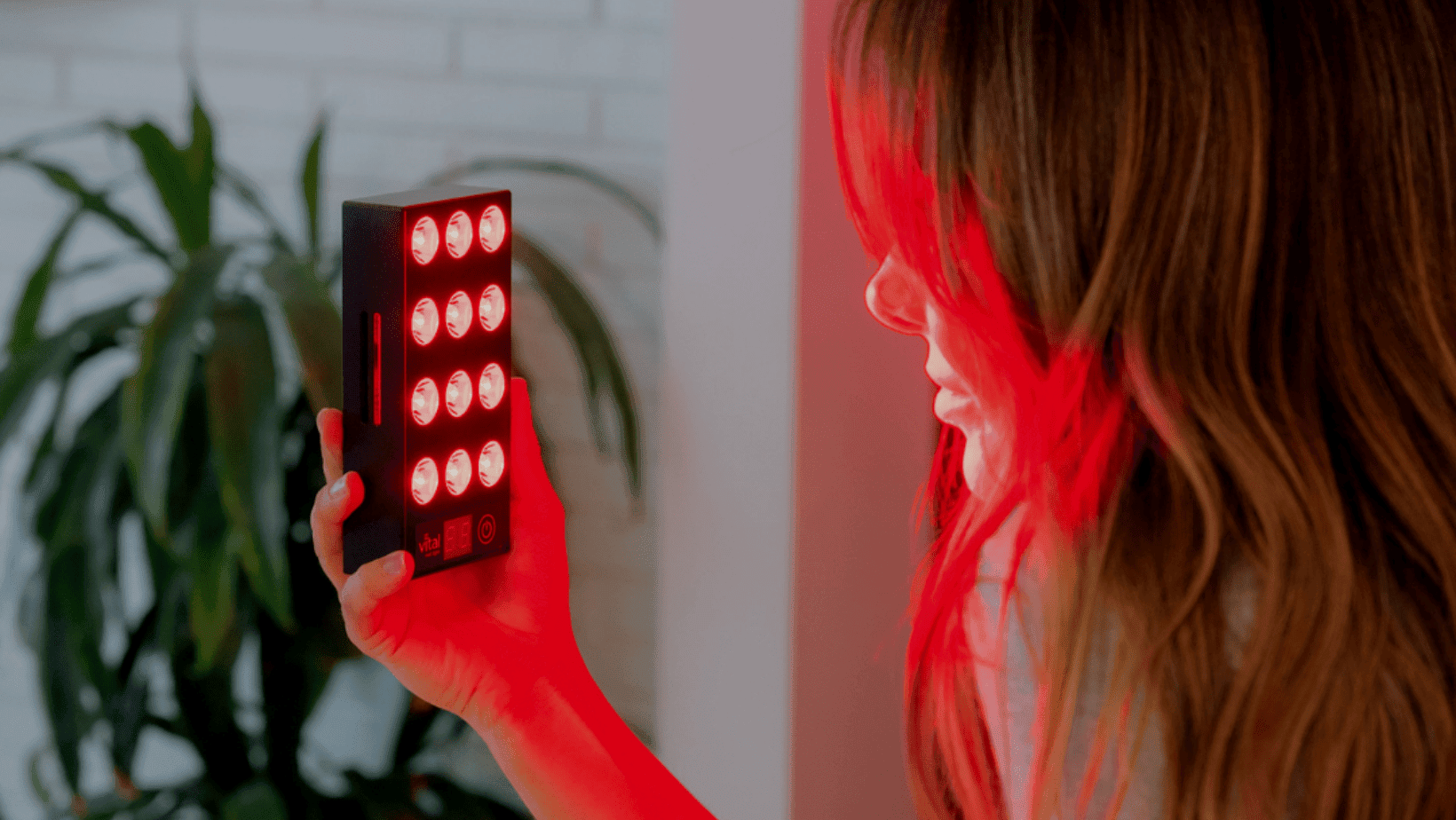 Conclusion
Red light therapy is a safe, natural, and effective treatment for rejuvenating your skin, reducing wrinkles & fine lines, lessening the appearance of scars & blemishes, treating acne, and boosting collagen. Red light therapy is also backed by a huge base of clinical research. In study after study, red light therapy has demonstrated how it reduces inflammation & wrinkles, and heals & rejuvenates skin for an overall healthy, younger look. That's why it's trusted as a safe, effective natural skin treatment by some of the top esthetician skincare professionals in the world.
Vital Red Light therapy is an advanced, painless treatment for better skin health. RLT increases the production of collagen to reverse the signs of skin aging, improve the appearance of wrinkles, heal wounds, and difficult to treat dermatological conditions. Vital Red Light therapy is safe for all skin types and has no known adverse side effects. RLT therapy is safe for use in all ages. For best results, use Red Light in 3-7 weekly sessions of 10 minutes. Always stand at least one foot away from your Red Light Therapy device.
Find and buy the red light therapy device that is right for you at Vital Red Light today. With full-body red light therapy, targeted therapy, and portable red light therapy all available, you too can benefit from this amazing and rejuvenating treatment today.
Citations
[1] https://www.ncbi.nlm.nih.gov/pmc/articles/PMC5699925/
[2] https://pubmed.ncbi.nlm.nih.gov/30074109/
[3] https://www.ncbi.nlm.nih.gov/pmc/articles/PMC4126803/
[4] https://pubmed.ncbi.nlm.nih.gov/17760698/