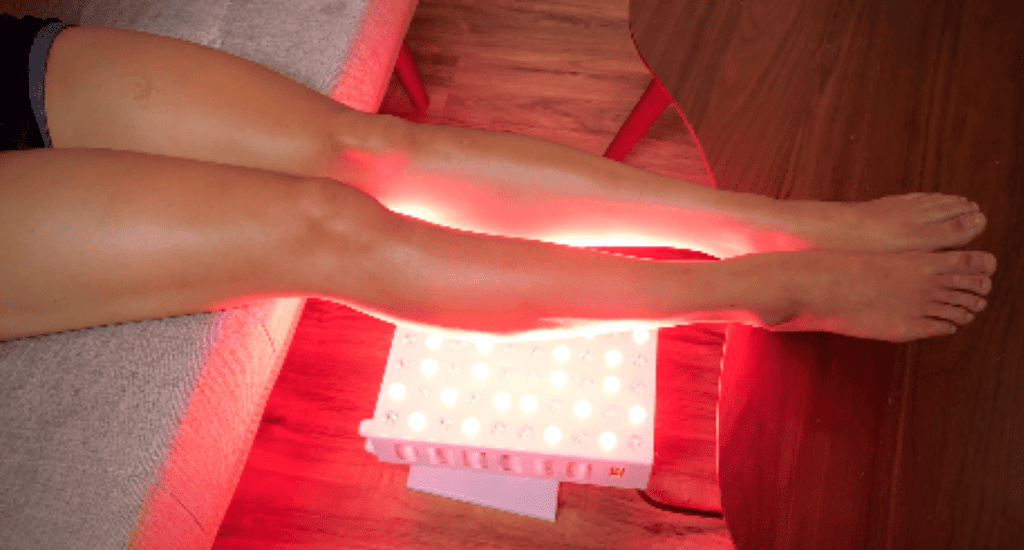 Are You Suffering From Foot Pain?
If so, you are not alone. Foot pain is one of the most common conditions that people experience, and it can have a massive impact on our quality of life.
If you're looking for relief from foot pain, then you might be interested in using red light therapy for foot pain. This FDA-cleared treatment is a cost-effective way to eliminate foot pain without the use of pharmaceuticals. With every 10-minute session, red and infrared light therapy gets to the root cause of your pain to eliminate it for good. Continue reading to see how light therapy could help you live a better quality of life. 
Note: You can shop our FDA-cleared, 3rd Party Tested Vital Pro Light Therapy device here.
Get Fast Relief For Your Tired, Aching, And Sore Feet.
Vital Red Light therapy is a modern approach to chronic pain. No chemicals, no prescription, and no risk of dependency. Rather than simply masking the pain like most pharmaceuticals, red light therapy is able to treat the underlying cause of the condition by enhancing tissue repair, and circulation, and providing your body with the much-needed energy necessary to heal the pain. We'll break this down below.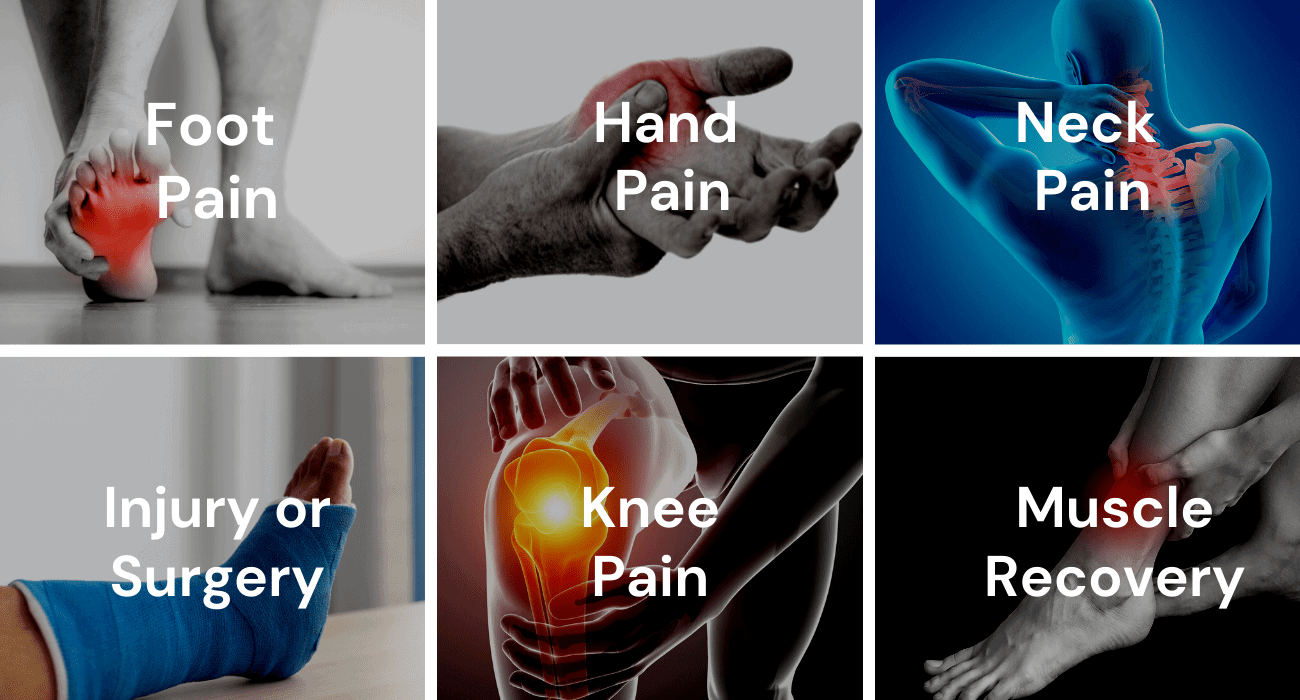 How Does Red Light Therapy Work?
Red and near-infrared light therapy, because it improves circulation and blood flow at the source of your pain which can help to alleviate many aspects of pain, such as joint stiffness, inflammation, muscle problems, and more. The pain-relieving results happen most often with consistent daily use for at least a few weeks — but some customers are able to get instant relief.
As incredible and beneficial as red light is, it is not an instant fix for pain. Rather than managing symptoms but ignoring the underlying causes of pain, red light therapy can enhance your health on a cellular level. In other words, it can alleviate chronic discomfort as the body "resets" itself as a result of the bioactive properties of red and NIR light. Let's check out some of the clinical science around using red light therapy for pain. 
Increases Blood Flow: A study on red light therapy found this pain relief method to boost blood flow for chronic heel pain and increases energy in the cells which aid in better blood flow.
Reduces Pain and Inflammation: In a study, seven patients with bilateral Achilles tendonitis were exposed to red light therapy and all of them reported reduced pain after 30-days of treatment.
Recovery From Surgery or Injury: Studies show that LED light therapy effectively reduces pain by healing wounds and various kinds of skin damages. Navy seals have used LED light therapy, and 40% improvement in musculoskeletal injuries was observed among team members.
Reduces Body Pain: A recent clinical study concluded that "Our study shows that red light therapy reduces pain immediately after treatment in acute neck pain and up to 22 weeks after completion of treatment in patients with chronic neck pain.
Improves Plantar Fasciitis: A meta-analysis indicated that using red light therapy in patients with plantar fasciitis significantly relieves the heel pain and the excellent efficacy lasts for 3 months after treatment.
Is Red Light Therapy Safe?
Red light therapy is FDA cleared, safe and free of ultraviolet (UV) rays. Unlike using other laser therapies or tanning beds, red light therapy does not use UV light (which can cause skin damage).
A red light therapy device emits a select spectrum of wavelength called red and near infrared light that is able to penetrate deeply into your skin. When the light is absorbed by your cells, this stimulates your mitochondria to heal your cells. Unlike a heating pad, red light therapy works below the skin's surface reaching deep into tissues, stimulating cells and increasing circulation, oxygenation, cellular repair and cellular reproduction. The medical-grade LEED lights allow the light to penetrate deep into the body where it can repair and revitalize your cells. 
With every Vital Red Light therapy treatment, you can rest assured that you are getting the right dose of light without any negative side effects. There have been hundreds of studies around the world that provide the safety and effectiveness of red light therapy on all parts of the body. Be sure to consult a doctor about any potential red light therapy side effects that may occur before starting this treatment method. 
How To Use Red Light Therapy
One study found great results for red and NIR light for sufferers of degenerative osteoarthritis. These participants used it for 15 minutes, twice a day, with great results, so that's likely your best starting point. To ease pain and slow the progression of rheumatoid arthritis or osteoarthritis, continue with red/NIR therapy indefinitely as a twice-daily regimen, or as shorter and less frequent sessions depending on your level of pain.
Flip on your Vital Red Light therapy device
Point the device at the area that is causing you pain
Sit back, relax and allow the red and infrared light work on your cells to reduce pain. Feel the benefits immediately after every 10-minute session due to its simplicity and ease to use, you will feel relaxed, uplifted and physically energized and in a better mood.
Why Choose Red Light Therapy?
Foot pain is one of the most common conditions that people experience. It's a condition that affects many, and it can have a massive impact on your quality of life. If you're looking for relief from foot pain, then you might be interested in an LED Infrared Light Therapy Treatment for Foot Pain. This innovative type of treatment is a cost-effective way to relieve foot pain, and it's also the best alternative for those who don't want to resort to surgery or medication.
When it comes to how often you should use red light therapy for pain management, adequate machines can be used up to three times per day per target area. It's generally safe for most people to use this treatment method on their own without any additional precautions or guidance from a medical professional
100% Natural & Drug-Free: Safe, proven treatments without the need for prescriptions or additional medications.
Easy To Use: Innovative devices utilizing the latest in advanced light technology, deliver the health benefits of cutting-edge science and the caring touch, right at-home. 
Personal Empowerment Red light therapy allows for self-administered care in the comfort of home without doctors or any additional office visits
Why Choose Vital Red Light Therapy?
Vital Red Lights are equipped with medical-grade 5 watt LEDs, offering the highest power (irradiance) measurements in an at-home red light device. Vital Red Lights offer medical grade power for more effective treatments in less time. The Vital Pro is our best-selling device specially designed for maximum energy output and maximum pain relief. It is 3rd-party tested, 100% natural, and provides relief that you can feel — or your money back. Are you ready to eliminate your pain and improve your life? Shop now.