Why use red light therapy?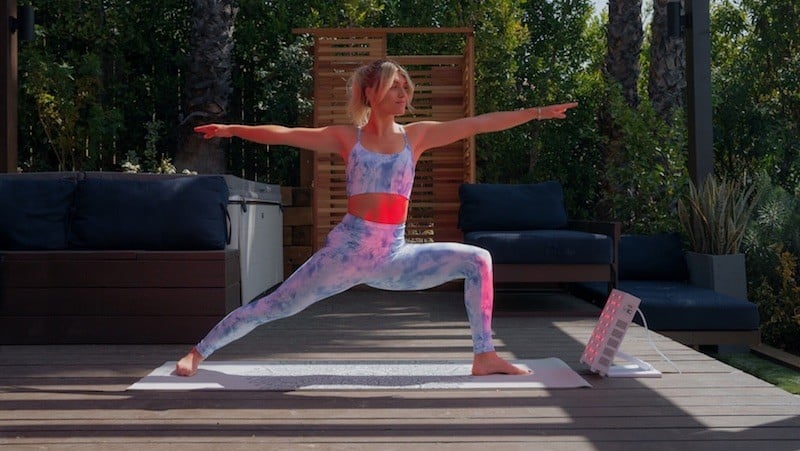 Index
Introduction
The average human spends 90% of their time indoors, cut off from the natural light of the sun [1]. Worse yet, much of the time we spend indoors is filled with artificial blue light, fluorescent light bulbs, and other toxins that we are chronically exposed to. Our human bodies were designed to function with an abundance of natural sunlight, but with our modern lifestyles, we don't get nearly enough light to have optimal health. Red light therapy is here to change that. 
You may have many questions such as – what is light therapy? And why is light so important to my health? With so many health modalities and treatments out there today, it is natural that you might be skeptical towards another treatment option like light therapy. This article will help to explain the importance of light in your daily life and why light therapy might be for you.
Light is just as important to health as food and water
How often do you get outside or expose yourself to natural light? If you're only getting outside for a few hours a week, you likely don't have nearly enough natural light in your life and it could be the root cause of insomnia, a weak immune system, bad skin, fatigue, depression and many other symptoms. Light is the most overlooked aspect of optimal health. As it turns out, we are all light deficient and this may be the source of our physical and emotional problems.
What happens when we don't get enough natural light?
When we don't get adequate natural light, it affects every cell and process within our body. Humans were made to use sunlight for optimal health. Healthy light is essential to every cell's function, and a lack of light can lead to chronic disease and illness. Lack of sunlight has been known to cause anxiety and depression because not enough sunshine depletes brain serotonin and dopamine levels, and those low levels can lead to disabling mood conditions. We need an abundance of natural light to look, feel, and live our best – and red light therapy is here to help.
What is red light therapy?
Red light therapy, also known as photobiomodulation (PBM) is a technology that was developed by NASA in the 1980's. Vital Red Light Therapy devices emit red and near-infrared (NIR) light that is naturally emitted by the sun. In targeted doses, they have a healing effect on the body. Red light (660nm) is absorbed by your skin, leading to skin rejuvenation and healing. Near-infrared light (850nm), penetrates deep into your tissues, muscles, and body for recovery, reduced pain, inflammation, and much more. Universities and research institutions have extensively studied light therapy for its beneficial effects on Diabetes, Neuropathy, wound healing and much more [3,4,5].
Red light therapy is backed by clinical research & real science.
Light therapy is not just another wellness fad. The technology of light therapy was developed by NASA in the 1980s for use in the international space stations, but over the last couple of decades we've seen drastic technological developments that have enabled Vital Red Light to develop products for at-home use. Over the past twenty years, researchers have conducted over a thousand peer-reviewed trials and studies on various kinds of light therapy, concluding that red light treatments are generally safe and effective, with a wide range of potential uses.
Light therapy gives you healthy light, anytime & anywhere.
Light therapy is an easy way to add healthy light to your life, in the comfort of your home, at any time of day, no matter the weather or season. It is truly amazing what just 10-minutes of natural light can do for you. With a premium at-home red light therapy device from Vital Red Light, you can treat your body with clinically proven red and near-infrared light, delivered directly to your body and its cells. Red and near infrared wavelengths of light are what your body would receive from natural sunshine, but without the heat or UV rays that cause sun damage.
How does red light therapy work?
Red light therapy is the process of receiving the red and near infrared light your body receives naturally from the sun. After millions of years of evolution, your body is capable of utizling red and near infrared light to help power your cells. A red light therapy device does not emit UV rays or heat, rather it emits a select spectrum of wavelength called red and near infrared light that is able to penetrate deeply into your skin. When the light is absorbed by your cells, this stimulates your mitocandria to function more efficiently. When your body's mitochondria are function in efficiently, this leads to a host of health benefits (more on this below).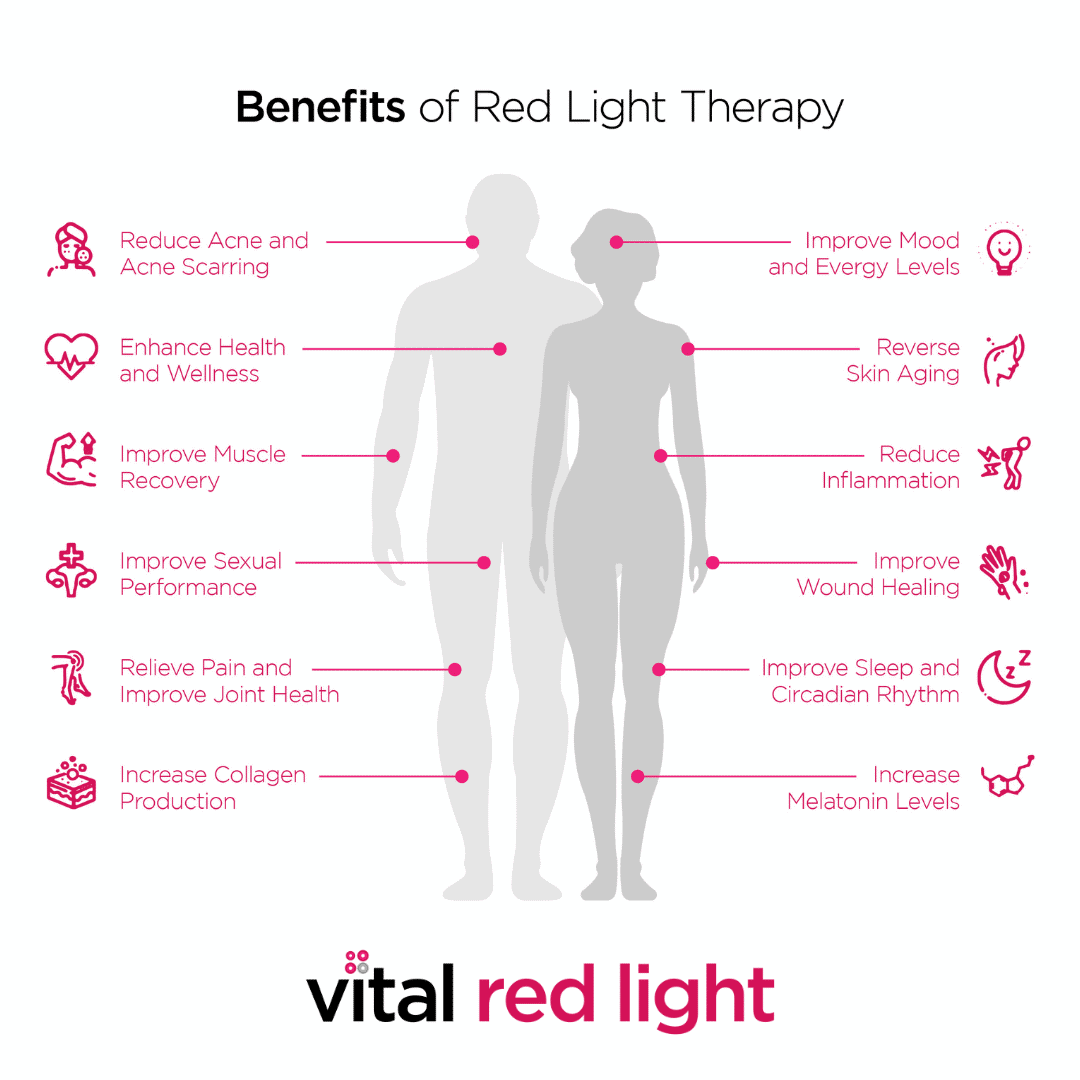 The health benefits of red light therapy
Red light therapy treats the underlying root causes of disease and cellular dysfunction at the source, enabling such a wide variety of health benefits to people of all ages. Whether you're an athlete, a busy mom, or a health expert, you can benefit from more healthy light in your life.
Improve symptoms from major depressive disorder an seasonal affective disorder
Fight skin aging and wrinkles while improving overall skin complexity
Lose fat, and prove the appearance of cellulite
Combat hair loss and stimulate hair regrowth
Build resistance to stress at a cellular level
Speed up and wound healing and lesions
Improve hormonal health in and women
Optimized brain function and cognitive abilities
Combat fatigue and improve overall energy levels
Read your body of chronic inflammation and discomfort
Fight the root cause of aging – oxidative stress
Decrease pain in joints and muscles
The physiological effects of red light therapy have been scientifically proven and has established the main areas of therapeutic benefit including increased collagen production, repair and recovery of muscles, and relief from symptoms of inflammation. Additional studies have shown beneficial results in preventing neurodegeneration from diseases like Alzheimer's disease. Red light therapy increases blood circulation, reduces oxidative stress and increases cellular function and ATP energy production [4,5,6]
What is the difference between red Light therapy and sunlight?
It is important to note that red light therapy is not a replacement to sunlight. But it does provide the body with two of the most critical wavelengths of the sun – red and near infrared light. As we learned, red and near infrared light (either from the sun or your red light therapy device) are scientifically proven to increase ATP production in the mitochondria. This simply means that your cells are able to produce energy better after exposure to red and near infrared light.
The sun is not always available to you, but your red light device is. With a red light device, you receive a consistent and predictable spectrum of light with each use. Additionally, your red light will not emit any of the harmful UV rays of the sun! With winter right around the corner, it is a smart move to invest in a red light.
Conclusion
Light is all around us, but most of us don't really think about it on a day to day basis. We may even take for granted how much light fuels our basic needs and functions. There's no shortage of reasons why natural light is integral to our health and not getting enough of it can lead to serious health consequences.
Using a premium light therapy device from Vital Red Light is an easy way to get a healthy dose of natural light anytime, anywhere. Red and near-infrared light therapy is a trusted and scientifically backed health and wellness modality that is producing real change among thousands of customers. Ready to experience light therapy for yourself? Explore the Vital Red Light devices.
Citations:
[1] https://pubmed.ncbi.nlm.nih.gov/11477521/
[2] https://www.ncbi.nlm.nih.gov/pmc/articles/PMC5473809/
[3] https://www.ncbi.nlm.nih.gov/pmc/articles/PMC4126803/
[4] https://www.ncbi.nlm.nih.gov/pmc/articles/PMC3288797/
[5] https://www.ncbi.nlm.nih.gov/pmc/articles/PMC5215870/